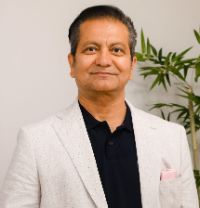 Dear esteemed members of the APPNA-PUN,
I am deeply honored and humbled to step into the role of President of APPNA-PUN for 2023. As I embark on this new journey, I want to acknowledge each one of you for your unwavering commitment to our noble profession, our patients, and the betterment of our Chapter. Our shared vision of advancing medical science and improving patient care has always been the cornerstone of our association.
Looking back, we owe our gratitude to the past leaders and members who have shaped APPNA-PUN into what it is today – a beacon of excellence, unity, guidance and collaboration. As we stand on their shoulders, it becomes our duty to carry forward this legacy with renewed vigor and vision.
My special thanks to outgoing president Dr Shehla Siddiqui, who successfully managed to invest so much time and effort in APPNPUN and its membership during her tenure in 2022. She was also the chair of APPNA 2022 summer convention in Atlantic City, Nj and did an amazing job in making the meeting successful and made us all very proud.
We are also very thankful to Dr Haroon Durrani, for continued guidance, support and from APPNA-PUN founder president and Immediate Past President of APPNA. We wouldn't be here without his effort and vision.
I am also very thankful to our New Executive Committee for taking their roles and donating their time and efforts to make our chapter and community better and United.
This years executive committee includes, Dr Mohammad Murtaza ( President elect) Dr Shazia Savul ( Secretary) , Dr Sujood Ahmad( Treasurer), Dr Junaid Chaudhry ( Counselor) , Dr Ambreen Naeem ( Counselor) , DR Umar Farrooq ( Counselor at-Large)
As your new president, I wish to focus on the following key areas:
Inclusivity & Collaboration:
Embracing the diversity of our members and fostering a culture where all voices are heard and valued. Through collaboration, we can achieve greater milestones than we can alone.
Continued Education & Research:

Prioritizing ongoing education, training, and research initiatives to ensure our members are always at the forefront of medical advancements.
Community Engagement:
Strengthening our ties with the community, understanding their needs, and tailoring our efforts to make a positive and lasting impact.
Digital Integration:
Embracing technological advancements to facilitate better patient care, research, and member communication.
Mentorship:
Building bridges between experienced professionals and the next generation of medical practitioners to ensure the transfer of knowledge and fostering growth.
To achieve these goals, I will be counting on your support, feedback, and active participation. Remember, our strength lies in our unity. With collective effort, I am confident that we will overcome any challenges, set new benchmarks, & continue to be a society that others look up to.
I am eager to hear from you, to understand your aspirations, concerns, and ideas. Let's come together, as we always have, to build a brighter future for the APPNA-PUN and for all those who rely on our expertise and care.
With gratitude and anticipation,
Imran Amir, President, APPNA-PUN