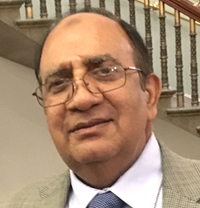 It is my great pleasure to serve as the fifth president of APPNA PUN. I am grateful to the members who have trusted and given me the opportunity to serve one of APPNA's best chapters. I hope I will be able to maintain the traditions of my predecessors.
This year, the theme will be Serving the Underserved Communities.
In order to fulfill this goal, I am asking all of our members and their families , to dedicate themselves to this mission. Together we can make a positive impact in our communities.
Joining me in bringing my vision to life is APPNA PUN,s Executive committee. This year, the committee is:
PRESIDENT ELECT: Dr. Sajjad Savul
SECRETARY: Dr. Shehla Siddiqui
TREASURER: Dr. Imran Amir
COUNCILORS: Dr. Umar Farooq
Dr. Masood Siddiqui
Dr. Sujood Ahmed
COUNCILOR at Large: Dr. Jamal Mahmud
BOARD OF TRUSTEES
CHAIR: Dr. Mohammed Murtza
Dr. Nimra Rana, Dr. Sarwat Iqbal, Dr. Haroon Durrani and
Dr. Ghazala Farooqui
I will like to thank our outgoing president Dr. Jamil Mohsin for a fabulous job he did in 2019. I personally got valuable experience and advice from him.
This year I have few exciting projects and activities lined up, so please mark your calendar! We will start off with,
1. Medical Mission to Tennessee from March 21-22. Dr. Aliya Khan will be in charge.
2. Annual Picnic. It will held on JUNE 14th. Dr. Zaheer I. Chaudhry will be in charge. This year the theme will be PAKISTAN HERITAGE DAY. I will request every one to wear GREEN AND WHITE.
3. Clean Water Project. Dr. Haroon Durrani will be in charge.
4. Free Clinic Day. APPNA/ICNA Free Mobile clinic will come in our area. The date will be announced later. Most probably it be in August. Dr. Umar Farooq and Dr. Junaid Chaudhry will be in charge.
Please note, we will need VOLUNTEERS for both the trip to TENNESSEE and in our area.
5. Dr. Shehla Siddiqui will be running BOOK CLUB this year.
6. Dr. Jamil Mohsin will be running FOOD PANTRY.
7. Dr. Umar Farooq will be heading up ADVOCACY Committee.
8. Dr. Sujood Ahmed will be heading up MEMBERSHIP COMMITTEE.
9. Dr. Sajjad Savul will be in charge of ETHICS & GRIEVANCE COMMITTEE.
10. Dr. Imran Amir will be in charge of BANQUET COMMITTEE.
11. Dr. Masood Siddiqui will be heading COMMUNICATION COMMITTEE.
12. Dr. Ghazala Farooqui will be in charge of RECOGNITION & AWARD COMMITTEE.
13. Mr. Azfar Kaleem will be in charge of FOOD COMMITTEE.
14. Mrs. Fauzia Kaleem will be heading YOUTH ACTIVITY.
In regard to our popular ANNUAL BANQUET, the TENTATIVE DATE OF OCTOBER 17 have been set, but it may change. Last year an INVITATION was extended to the PRESIDENT OF PAKISTAN DR.ARIF ALVI to be our GUEST SPEAKER. As soon as I receive the response, the date will be confirmed and communicated to the members via E-MAIL, Phone call and Text messages.
The EC and I are excited for the new year and to bring positive energy . We always welcome your suggestions or concerns. Please don't hesitate to reach out to me or any of members of our Executive Committee.
I will like to end by sending my best wishes to our member, their families and my EC. I hope everyone has a wonderful and blessed year filled with good health and joy, Aameen.
Warm Regards,
Mohammad Arshad, DDS
President APPNA PUN 2020
History
APPNA is a professional, nonpolitical, equal opportunity organization which promotes excellence in healthcare, research, education, and humanitarian activities.
Team
Our core strength is our dedicated volunteers who are always available for different initiatives and events with their valuable time. APPNA-PUN always looking for new members to join.
Events
APPNA-PUN organizes different through out the events which provides our members to interact & share new ideas and knowledge both socially and professionally.